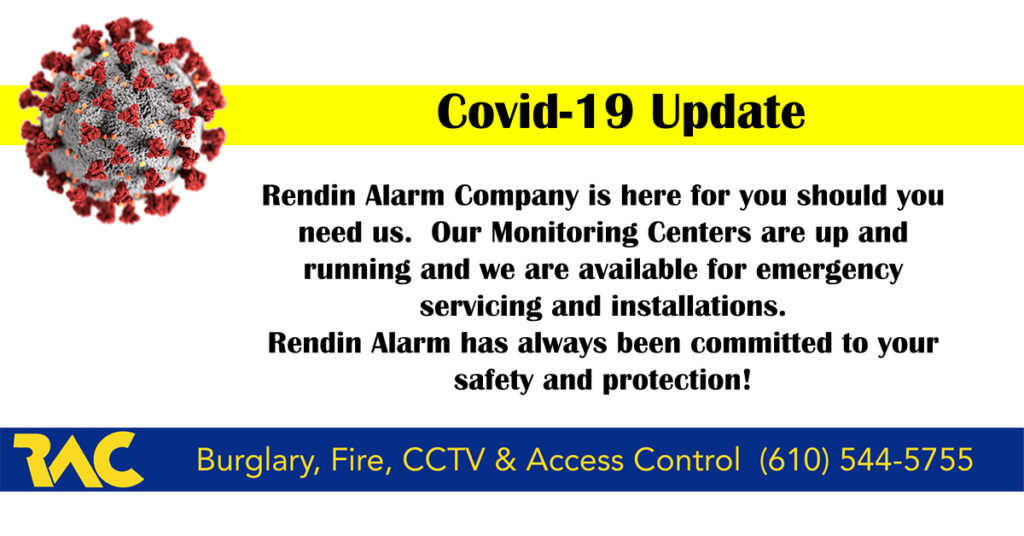 How Can Alarm Systems Help During a Pandemic?
Suddenly thinking about Alarm Systems? We have gotten a lot of calls from customers who are afraid of looting and rioting during this Covid-19 Breakout. To that end, we at Rendin Alarm Company in Morton Pa say "Don't Panic"! We are so proud of our Community and Country! Folks are sheltering in place and adhering to best practices when out and about!
We don't have any specific numbers, but you have to think home burglaries are probably down. Everyone is at home! And now that nobody is on the street, someone running down the street with a stolen flat screen would stick out like a sore thumb!
All things considered, though, it DOES make you want to assess your home's security, regardless of this pandemic. A security system for your home or office is your best defense against intruders. Furthermore, smart home technology is the best way to monitor your home and its systems.
Pandemic Solutions
How can smart home technology help during a Pandemic? Here a a few ways:
Communicating with delivery drivers through a camera doorbell such as "Ring".
Unlocking doors and opening garage doors remotely to minimize surface contact after being out.
Monitoring contractors through CCTV should you need to have emergency work done and choose to be outside to avoid contact.
Know if someone is approaching your property so you can communicate at a safe distance.
These examples are all good habits, which we can enlist when the "Stay at Home" restrictions are lifted. You can bet people will think differently about how they interact with others.
We here at Rendin Alarm are here for you if you need us. Our Technicians are all enlisting best practices when visiting your home or office should that need arise. And we hope you all are safe and healthy. Please don't hesitate to call us if your Family or Employees' safety is at risk!
Three Months FREE Monitoring
Right now, Rendin Alarm Company if offering Three Months FREE Monitoring when you purchase and have us install a qualifying alarm system. Please call us at (610) 544-5755 for details! To learn more, visit our Services Page. Please Follow us on FaceBook.