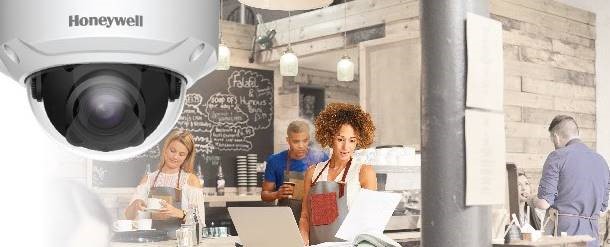 Security Systems for your Business by Honeywell
Your Employees are your greatest asset and their safety is your biggest priority. In addition, protecting your physical assets is critical to your profitability. Inventory, Equipment and Supplies will all be better protected with a security system with integrated cameras, point of entry measures and motion sensors.
Add to the mix remote viewing and controlling capabilities via the web. This feature allows you to access your property virtually from anywhere you have web access. Central monitoring completes the package. The following is some technology information regarding security systems for businesses by Honeywell.
Upgrade to the Newest MAXPRO NVR Technology
Transition your existing recording solution to the latest hardware to take advantage of our innovative, secure, flexible and scalable Enterprise IP
video surveillance solution. PE Model is a true enterprise class recorder
providing storage redundancy and upgraded hardware. Peace of mind
with 5-year warranty including, next business day on-site support.

Recording up to 128 cameras per server reduces hardware footprint.
Helps you meet compliance and regulatory standards for data privacy.
Provides a complete security solution with integration to Honeywell access control systems.
New Line of Honeywell Notification Solutions
Honeywell is pleased to introduce a new line of notification solutions to
enable mass notification tailored to the needs of different applications.
UNP, X-618, INTEVIO, and LEADWAY speakers help you create a
comprehensive mass notification solution.
jvsg CCTV Design Software now includes all current
Honeywell Cameras
Honeywell announced that on its latest update (Version 10.0.0.1803), the
specifier tool "jvsg CCTV Design Software" now includes all current
Honeywell Cameras.This software, available in 14 languages, offers a
new way to design modern video surveillance systems quickly and easily. Today, it contains more than 5,500 camera models. The program is used
by more than 7,000 CCTV designers in more than 130 countries around
the world. Every year the program is downloaded more than 60,000
times.
Contact Rendin Alarm
To contact us you may email us at: RAC@rendinalarm.com or call us at
610-544-5755
We are located at 109 Main Street Morton, PA 19070, convenient to South Jersey, Philadelphia, SouthEast Pennsylvania and Delaware.

Follow us on FaceBook