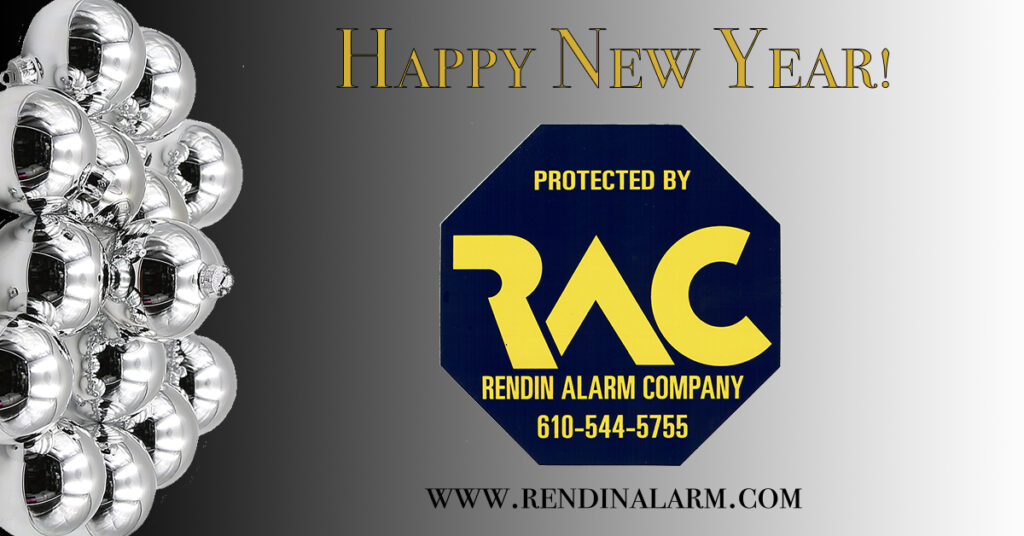 5 Security Tips for the New Year
Rendin Alarm wants to offer you free security tips for the New Year! New Years is a time of making improvements and home security should be top of the list. As we all try to set new habits in place, remember old habits die hard for burglars! January can be a tough month so we've got 5 home security tips to make it easier to have a happy New Year…
1 – Lock ALL Your Doors
Do you lock and remove the key from your dead bolt very time? If you do then well done! Making sure everyone in the family does this goes a long way to keeping opportunistic burglars out of your home.
But what about the other doors? It's easy to forget the back or side entrance if you're just nipping out for a loaf or school pick up. Can you enter your home from the garage? So can a burglar! Make sure all doors lock securely and get into the habit of checking them before leaving. It only takes 8 minutes for a burglar to ransack your home. Don't let a quick trip cost you the heartache and headache of a burglary
2 – Remember Your Windows
Even the smallest window can be used by a burglar. It's not just about someone climbing in. Bad guys feed tools through tiny openings to lift latches or keys. Always close them fully and lock them.
Upstairs windows at the back are particularly at risk. If they're left unlocked a burglar can be inside in seconds. Even if he can't get right in, you don't want someone taking your jewelry collection! If you have a garage with a low roof nearby, your upstairs is vulnerable. Make your resolution to lock everything, every time!
3 – Make Sure Valuables Aren't Visible Through Windows
After the Christmas comes the challenge of finding places to put all the new stuff. Ensure high value items go somewhere they can't be spotted from outside. Encourage the family to put away tablets and games consoles. Pull curtains or close blinds as soon as it gets dark to avoid putting your home on show to a burglar.
New bicycles or outdoor toys should also be stored securely. A locked shed is much safer than leaving items leaning against a wall. Outdoor security lighting can also help deter thieves and keep your garden and outdoor items safer.
4 – No Break-In While You are on Break!
Are you heading off to the slopes? Maybe escaping the cold for some winter sunshine? Make sure you don't return to bad news! These days we have to think of more than cancelling newspapers and the milkman. Are there any packages due that could be left in plain sight? Is the pizza place going to leave a menu hanging out of your mailbox?
If you have a good neighbor, let them know you'll be away. Ask them to keep an eye out for deliveries and other tell tale signs of an empty house. If the drive will be empty, see if you can let someone use it so it's not obvious you're away. Set timers on lights and radios to mimic normal family activity. Lastly, don't post on social media until you're back! 
5 – Call Rendin Alarm
The best resolution you can make is to invest in a professionally installed security system. Your home and family are watched over day and night with top quality equipment. Rest assured you won't be part of next years burglary statistics!

Burglars avoid homes with proper security alarms like the plague – moving on to easier pickings. 
At Rendin Alarm, we want everyone to be protected. We offer affordable home alarm systems, which meet your needs.
Beat the burglars in 2021! Call Rendin Alarm today!
Find Out More
Rendin Alarm is ready to keep you safe for the New Year. We are ready to protect your entire Family, Home or Business as well! We hope these security tips for the new year will help!
If you are interested in Smart Alarm Systems for Your Home or Business, please call us at (610) 544-5755 for details! To learn more, visit our Services Page. Please Follow us on FaceBook.
We will ensure your Home, Family of Business are safe in 2021 and beyond!
Thank You!