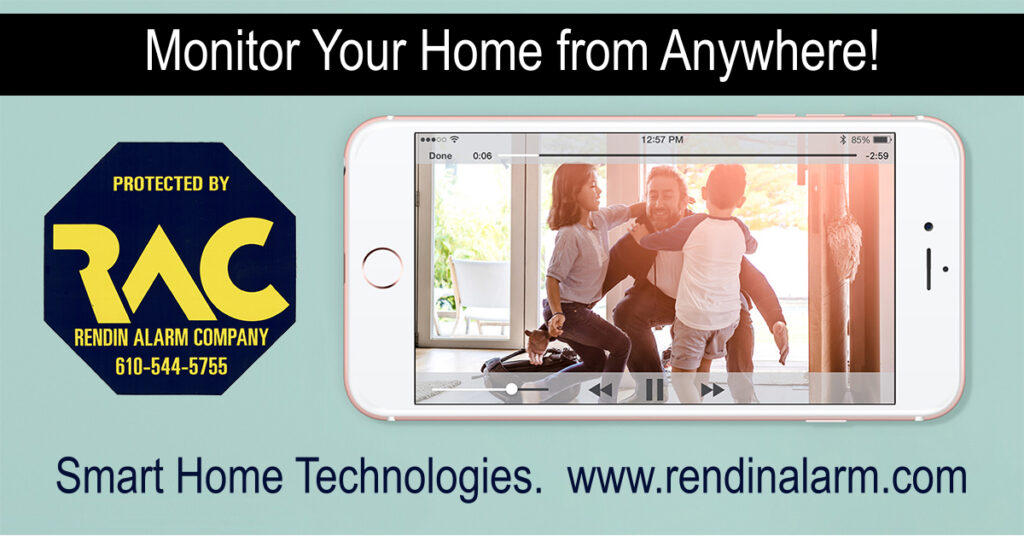 Video Monitoring of Your Home or Business from Anywhere
If you think video monitoring for your home or office is a difficult installation, think again. Rendin Alarm Company is partners with Alarm.com and our agents can help! Call us today and we will listen to your needs and make recommendations. In addition, we will install, launch and monitor your property with you! Here's some thoughts about our remote smart home video features:
Continuous Recording
Capture 24/7, high-definition, continuous recording with the Stream Video Recorder (SVR). The SVR is bandwidth optimized so it won't slow your internet connection.
Live Video
HD quality and great lowlight performance make for crystal clear video. Use your smartphone or tablet to view live streaming video while away from your property.
Doorbell Camera
See who's at the front door with the Alarm.com WiFi Doorbell Camera. Two-way voice through the Alarm.com app lets you speak to visitors at the door, from anywhere.
Video Analytics
Get smarter video alerts on what's most important to you.
Video Analytics distinguishes people from animals or vehicles and enhances perimeter security and property awareness. Get a video alert if someone lingers at your door, a car enters your driveway or your naughty pet jumps on the sofa.
Constant Awareness for Businesses
How was the lunch hour rush today? Are there many patients in the waiting room? Are customers showing up for the big sale?
Video monitoring with Alarm.com cameras engineered for your small business allows you to check in on your business with live and recorded video from anywhere.
If you have a security system and are considering a switch to VoIP, We recommend contacting us today at (610) 544-5755. You may also contact Rendin Alarm today! As we emerge from the pandemic, you can feel safe about going out, Fell safe about your home while you are out! Let's stop package thieves together! Rendin Alarm – ALWAYS keeping you, Your Family and your Businesses safe!
Please call us at (610) 544-5755 for details! To learn more, visit our Services Page. Please Follow us on FaceBook.