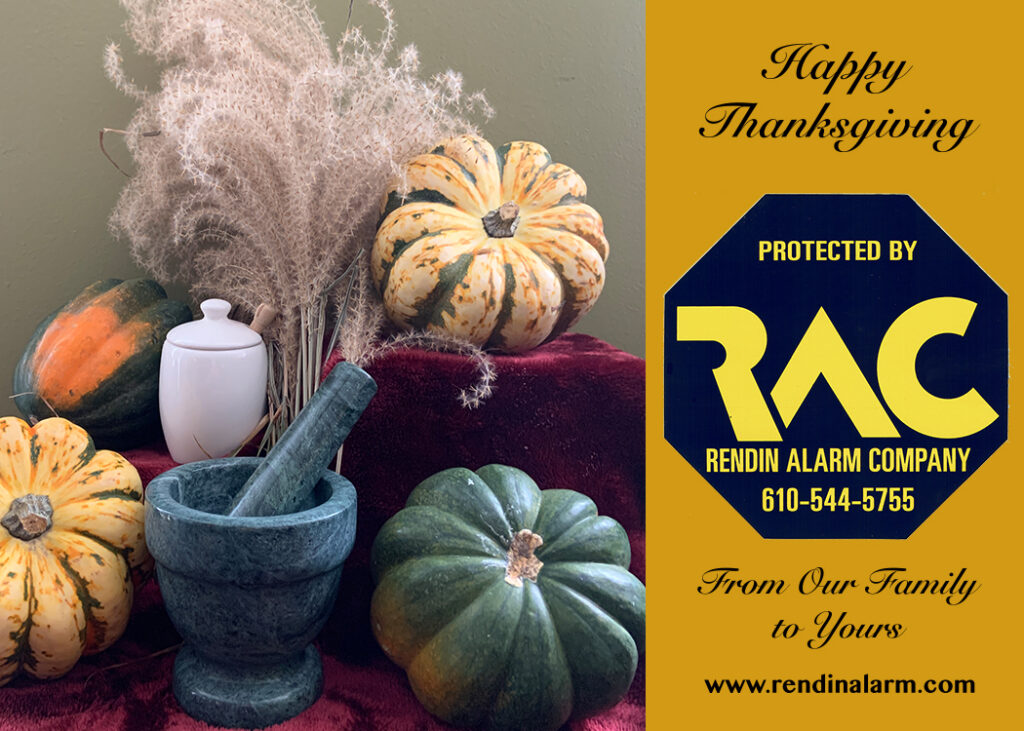 Rendin Alarm asks "What are you Thankful for?"
If you asked us "What are You Thankful for?", we would say our Family, Our Homes and YOU – Our present and potential clients. It is truly a gift to run this business. It is with great pride that we protect you, your family, your businesses and your assets. At Rendin Alarm in Morton, PA, we work extremely hard to ensure we offer the best service, protection and components that money can buy.
The Holidays are Coming, Protect your Assets.
This is the beginning of the gift giving season. It is also the beginning of Holiday Travel Season. Many homeowners are away, many small businesses have given their employees off and that creates opportunity for theft. In order to protect your home, make sure security measures are in place while you are away.
Lock all windows and doors and put your interior lights on a timer. Have a friend or neighbor pick up your mail, take out your trash and park in your driveway. Also, exterior lighting on motion sensors is a great way to scare off would-be intruders. And finally, the best line of defense, install a monitored alarm system from Rendin Alarm Company! There are many options to choose from. Consider smart home technology which provides remote access through cameras, which can be view by any smart device.
Furthermore, smart home technology can integrate with your home or business systems such as lighting, HVAC, powered locks, electric garage doors and so much more! In addition, we can install the Ring Doorbell System and add it to your home's security package.
Three Months FREE Monitoring
Right now, Rendin Alarm Company if offering Three Months FREE Monitoring when you purchase and have us install a qualifying alarm system. Please call us at (610) 544-5755 for details! To learn more, visit our Services Page.  Please Follow us on FaceBook.
Thank You and Have a Wonderful Thanksgiving!