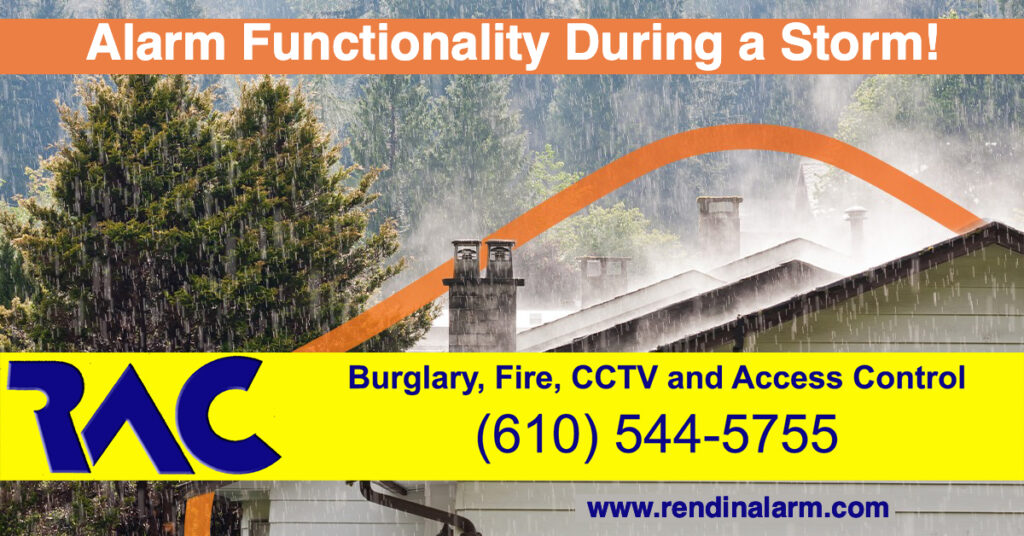 Our weather is mischievous, which make us worry about Alarm Systems and Storms. One minute you're lazing in the sun, the next, you're running for cover from a rainstorm that crept up out of nowhere.
Most of the time, a soaking is the worst that happens. However, thunderstorms can bring flooding, downed trees and even tornadoes to your neighborhood with little warning.
It's good to be prepared for storms and Rendin Alarm Company in Morton, PA can help. Our smarter home security technology alerts you to danger and proactively protects your home when rain and storms strike.
Power Outages
Your home shouldn't lose its security just because it loses power. Our security systems have 24-hour battery backup for weather emergencies, and a dedicated cellular connection that can still signal for help no matter if your power, phone line and broadband are out. Your home stays secure and connected to your professional monitoring station until your power comes back.
Groundwater
When sudden storms cause the groundwater under your house to rise, the last thing you need is for your sump pump to stop working. But if it happens, our system lets you know immediately, enabling you to act quickly to minimize water damage. Our sump pump monitoring solution even helps you diagnose the problem, so you'll know whether to call a pro immediately, or check your circuit breaker first.
Rendin Alarm Services
If you're interested in SmartHome Technology, Doorbell Cameras or any form of security systems for your home or office, contact Rendin Alarm today! As we emerge from the pandemic, you can feel safe about going out, Fell safe about your home while you are out! Let's stop package thieves together! Rendin Alarm – ALWAYS keeping you, Your Family and your Businesses safe!
Please call us at (610) 544-5755 for details! To learn more, visit our Services Page. Please Follow us on FaceBook.