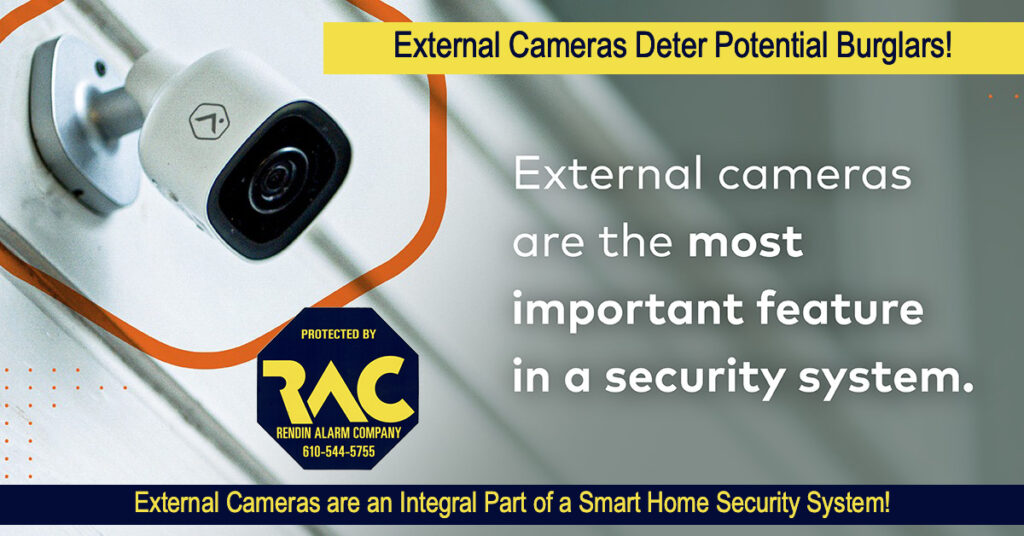 External Cameras Create a Visual Deterrent for Would-Be Burglars!
Installing External Cameras on your Home or Business is a powerful visual deterrent. October is Crime Prevention Month! Your family's safety is a priority, which means there's no room for cutting corners to make sure your home is secure. With studies showing homes without a security system are 300% more likely to be broken into, it's important you have a security system you can trust.
With a Smart Security System from Rendin Alarm Company in Morton, PA, you'll be able to recognize suspicious behavior and keep your home and family safer.
Keep an eye on your neighborhood
Who do you call when you run out of sugar for your coffee, or when you need someone to water your plants while you're out of town? Your neighbors. You've got each other's back, especially when it comes to keeping the neighborhood safe.
Get to know your neighbors and those who live in the area to make it easier to recognize someone who may not.
Know who to contact in your neighborhood if you notice any suspicious activity .
Beware of the unexpected
A visitor at your front door at noon isn't abnormal, but a visitor at your front door at 2 a.m. can cause concern.
If someone is prying around your home at unusual hours, or if any doors or windows are open that normally aren't, you can set up Unexpected Activity Alerts to receive notifications through the Rendin Alarm app.
Put your security on display
According to the FBI, 83% of would-be burglars check for the presence of an alarm system before attempting a break-in. Simply having visible outdoor cameras can prevent your home from being burglarized.
Our System's proactive defense uses Video Analytics to notify you when people enter your property unexpectedly. With an attention-grabbing combination of sound alerts and flashing red LEDs, the system will deter suspicious or unwanted behavior, stopping intruders in their tracks. 
Don't limit Crime Prevention to only one month. Alarm.com provides state-of-the-art technology to protect your home and family all year long. Get started below!
Rendin Alarm Services
If you're interested in a Smart Home System, External Cameras, Keypad Entry, Doorbell Cameras or any form of security systems for your home or office, contact Rendin Alarm today! As we emerge from the pandemic, you can feel safe about going out, Fell safe about your home while you are out! Let's stop package thieves together! Rendin Alarm – ALWAYS keeping you, Your Family and your Businesses safe!
Please call us at (610) 544-5755 for details! To learn more, visit our Services Page. Please Follow us on FaceBook.