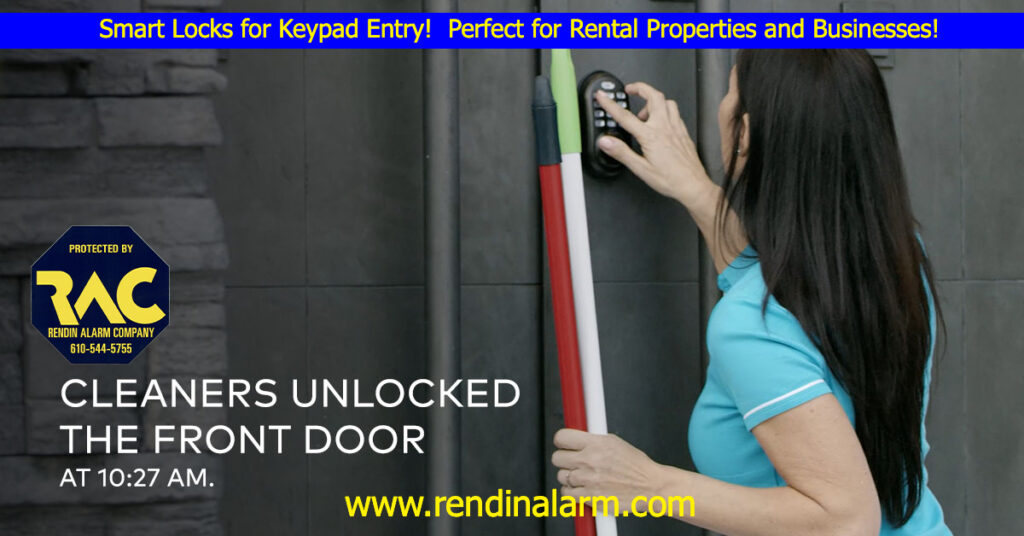 Track Who Enters Your Property with a Keypad Entry System
Keypad Entry systems are an excellent way to track who is entering your properties. With an installed smart lock, create separate user codes for you, your family, or any guest that needs access inside and get notified of who enters and when.
Should you ever suspect a code has been shared, stolen or misused, you can open our App and delete it, fully restoring your front door's security with no locksmiths necessary.
This is an excellent solution for places, which may have multiple individuals entering a secured space. Some great uses are Vacation Rentals, Businesses who get off hours delivery, and locations where cleaning crews arrive after hours.
An Keypad Entry user code is a safe, smart way to give family members, guests, employees or trusted visitors access to your home or business when you're not there.
It's a four or six-digit code that unlocks your door and turns off the alarm.
Why create user codes?
With user codes, a visitor doesn't need your help to let themselves in, and won't need access to your Alarm.com account. For security, you can restrict a user code to certain days and times, and delete it anytime. You can also get an alert whenever it's used, so you know who's coming and going.
Things to know:
You can't edit a Keypad Entry user code while your security system is armed. You'll need to verify that the system is disarmed before attempting to edit a user code.
You should also allow a few minutes for a new user code to become active at your security panel. If the new user code doesn't work at the panel or you have additional questions, contact your service provider.
You can edit or delete a User's Keypad Entry code using our App or on your computer!
Rendin Alarm Services
If you're interested in SmartHome Technology, Keypad Entry, Doorbell Cameras or any form of security systems for your home or office, contact Rendin Alarm today! As we emerge from the pandemic, you can feel safe about going out, Fell safe about your home while you are out! Let's stop package thieves together! Rendin Alarm – ALWAYS keeping you, Your Family and your Businesses safe!
Please call us at (610) 544-5755 for details! To learn more, visit our Services Page. Please Follow us on FaceBook.