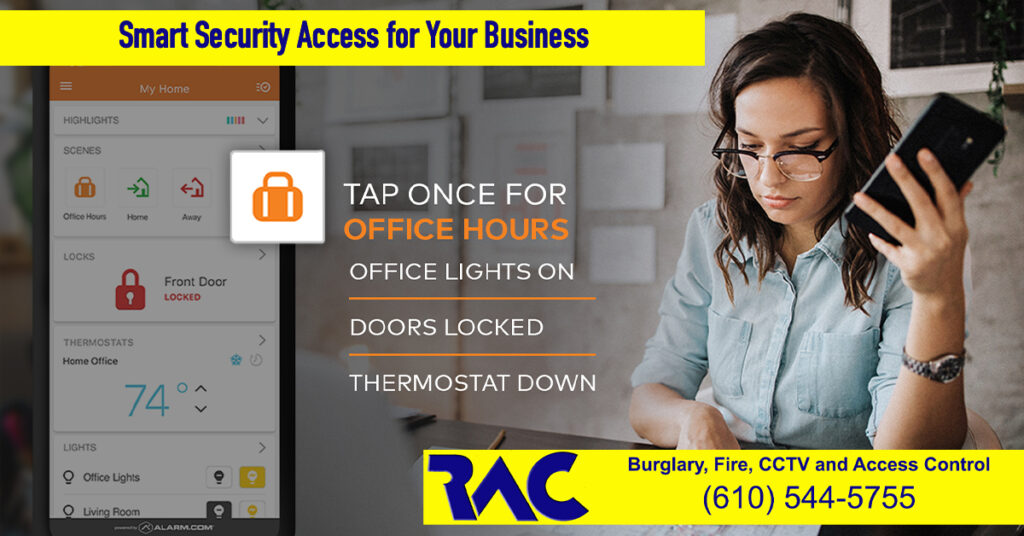 The Benefits of Smart Security Access for Business
You need Smart Security Access because there's no business quite like yours. From outside, it might look similar to many others. Inside, it's a different story: your own. You've customized the way it looks, from the pictures on the walls to the layout of the offices. You've customized the way it feels: your furniture, your lighting, your layout.
Now, there's a way to customize the way your business behaves.
Imagine if your office knew your favorite comfort and security settings for every moment: meetings, eating, reception and working. The way you like the lights set and temperature at opening, and the way you handle your security routine throughout the day. Then, imagine it all happening on your command. That's what our systems do.
Just set up your preferences, then tap a button or use a voice command to set the scene for opening up, leaving the office, having meeting, and any other customized moments you envision. It's exactly what you need, right when you need it.
Because Rendin Alarm in Morton, PA connects your security, lights, locks, thermostat and more into a single system, you can create custom Scenes throughout your home to save time all day, your way.
Simplify your security routine
You know the mental checklist you have to run down every time you leave your business? Your preset Away Scene takes care of it. Tap your app once to have your doors lock, your security system arm itself, your garage close, your lights turn off, and the thermostat set itself back to save energy. You'll avoid the last-minute stress that comes with running late, and you'll never worry about forgetting to lock the door again.
Rendin Alarm Services
If you're interested in SmartHome Technology, Doorbell Cameras or any form of security systems for your home or office, contact Rendin Alarm today! As we emerge from the pandemic, you can feel safe about going out, Fell safe about your home while you are out! Let's stop package thieves together! Rendin Alarm – ALWAYS keeping you, Your Family and your Businesses safe!
Please call us at (610) 544-5755 for details! To learn more, visit our Services Page. Please Follow us on FaceBook.