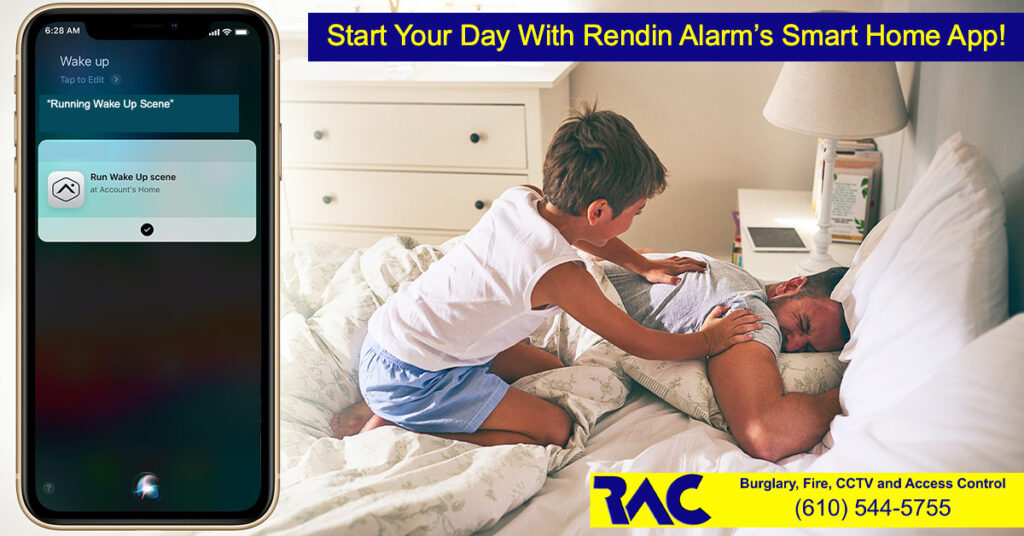 A Smart Home System from Rendin Alarm
A Smart Home System help if you have your hands full at home! Take a shortcut and activate a customized Scene with our Siri Shortcuts voice control integration.

Siri Shortcuts integrates into your existing routines and reflects the way you talk naturally, making it even easier and more intuitive to interact with your smart home. You can activate a Shortcut with any compatible Apple device with iOS12 or a later update: your iPhone, iPad, HomePod, Apple Watch, and even your CarPlay-enabled vehicle dashboard, enabling you to voice-control your home from the road.
Hey Siri: Good morning!
Scenes let you control any or all of your smart devices – lights, garage door, locks, thermostat, or security system – with a single command.

Siri Shortcuts lets you activate Scenes with your voice alone. Just use your App to set up a custom Siri voice command to trigger any scene—you can be as creative or as natural with your commands as you like—and get talking.
You could start the day with a cheery "Hey Siri… good morning!" command to activate your Wake Up scene, which turns on your lights and disarms your security system. Later on, a whispered "Hey Siri: baby's nap time," could activate a custom scene for your nursery that turns the lights down and switches on the smart plug for your baby's sound machine.
Rendin Alarm Services
If you're interested in a Smart Home System, Keypad Entry, Doorbell Cameras or any form of security systems for your home or office, contact Rendin Alarm today! As we emerge from the pandemic, you can feel safe about going out, Fell safe about your home while you are out! Let's stop package thieves together! Rendin Alarm – ALWAYS keeping you, Your Family and your Businesses safe!
Please call us at (610) 544-5755 for details! To learn more, visit our Services Page. Please Follow us on FaceBook.