Happy Holidays from Rendin Alarm!
"One Man's Trash is Another Man's Treasure!"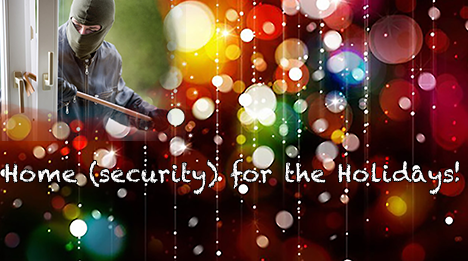 The Holidays are a joyous season for many and people who celebrate and those who don't all take advantage of the Holiday shopping bargains!  But during the Holidays, the thieves are having a joyous season as well. Holiday Home Burglaries are on the Rise. It is a shame that there are such risks out there, but it's a cruel fact of life.  So here are a few tips from Rendin Alarm Company, which can help you reduce your risk of having Holiday Home Burglaries this Season.
Don't advertise what you bought!
It is awesome that you got that new flat screen TV, the new laptop, camera, tablet and mixer. And guess what? Burglars also think it's awesome! So what you should do is invest in a small box cutter and break down your packaging into manageable pieces, which can fit into a plastic recycling bag. This way, no one will be tempted by what they see is new in your home.
Don't leave 'em in the dark!
Are you going away for the Holidays? Make sure you have your lights on a timer. This gives the impression of someone being home. Keep your exterior lights on in the front back and sides of your home. The more light that covers your property, the less likely a burglar is to risk being seen and the easier it will be to prevent Holiday Home Burglaries.
Have your packages delivered to your workplace!
Theft of deliveries is becoming more common than ever. Individuals are more brazen than ever when it comes to stealing items from front porches and stoops. It is a good idea to have close neighbors who may be at home to receive your deliveries. But if that can't happen, ask your boss if you can have your packages delivered to you at work. This way, deliveries are usually made during business hours and you can ensure you are getting them.
Avoid Holiday Home Burglaries. Call Rendin for a Consultation!
Call Rendin Alarm Company (https://rendinalarm.com) today at 610-544-5755 to find out about getting an alarm system for your home. There is no better deterrent to a home invasion than a properly installed alarm system with 24-hour monitoring and a prominently displayed Rendin Alarm Company Logo! You can also fill out the form below and a Rendin Alarm Representative will get back to you promptly.
Thank you and have a SAFE Holiday Season!
Contact Us