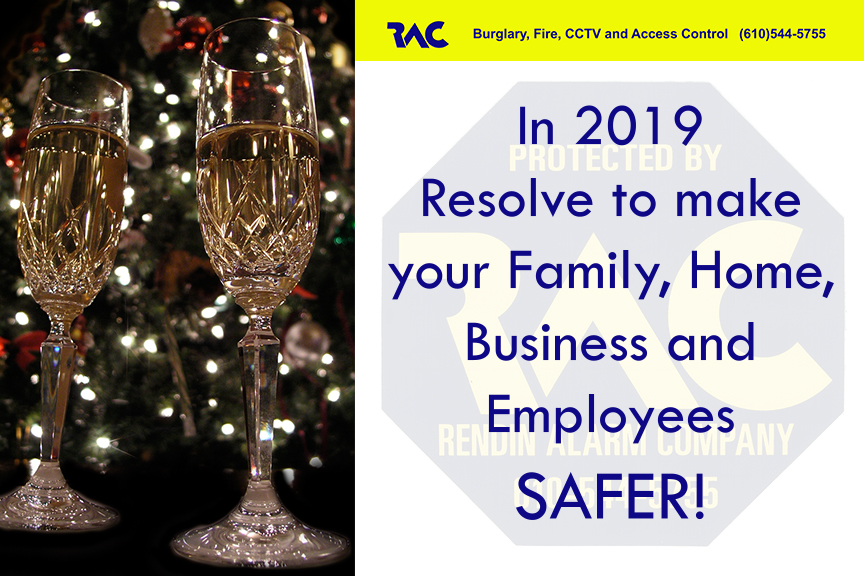 Resolve to be safer in 2019!
Happy New Year from Rendin Alarm Company! We wish you a safe, healthy and prosperous 2019! We all make resolutions at New Years. Many are for healthy changes, such as weight loss and exercises. Also, work and financial achievements are common. Furthermore, we resolve to travel more, spend more time with Family and friends. But to we ever resolve to be SAFER?
Alarm Systems for Your Home or Business
The single most effective way to protect your Home, Business, Family and Employees is with an alarm system from Rendin Alarm Company. Our systems and monitoring centers ensure your most valued assets are safe. You can choose remote security with our Total Connect service, which allows you to monitor your property from anywhere via your smart phone, computer or tablet.
Protect your business from fire with our fire alarm systems. Or protect your inventory with Cameras, motion sensors and point of entry alarms.
Regardless of what aspect of your life needs protection, Rendin Alarm Company has you covered! You will benefit from peace of mind knowing your valued possessions and those you care for are protected. Most insurance Companies offer discounts for a secured dwelling as well.
Free Consultation
We would love to speak with you and assess your needs! Call Rendin Alarm Company today at (610) 544-5755 for your free consultation or email us for more information.