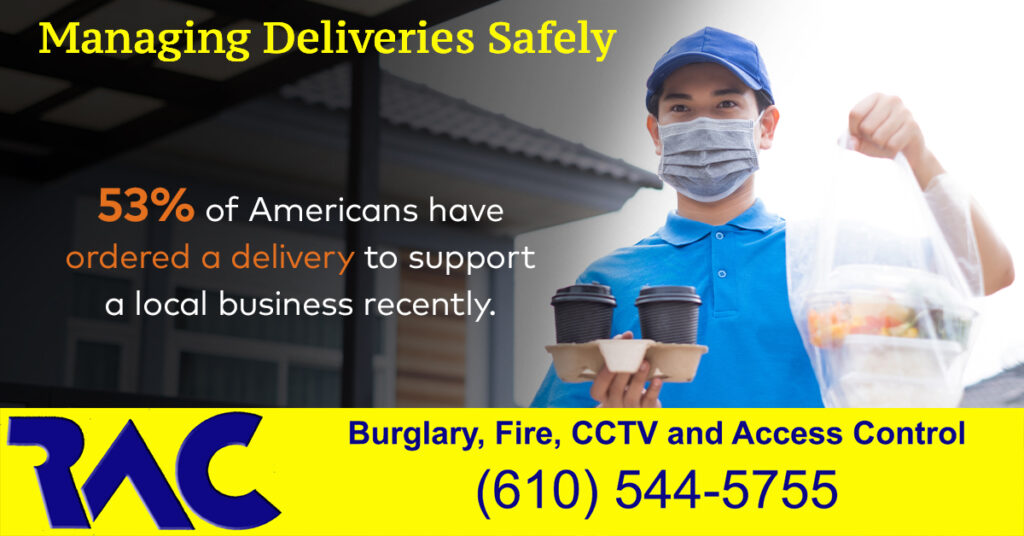 Thoughts on Managing Deliveries Safely
Are You managing deliveries safely when they come to your home or business? Have you disinfected a package delivery to protect yourself from germs lately? Are more deliveries such as food and groceries being left outside your door?

You're not alone. In fact, many Americans have the same scenarios, according to new research. We're relying more on home deliveries, and we're taking new precautions as we adapt.

According to a survey of 2,000 Americans by OnePoll for Alarm.com, the average person now receives 10 home deliveries a month: a 60% increase from the pre-pandemic average of 6. It's a trend that's likely to stick.

With social distancing and shortages in stores as a root cause, we're using home deliveries to get everything from clothing to essentials like milk and toilet paper, as well as to support local businesses. Along the way, we're discovering extra benefits that we'll want to keep—as well as a few new worries to navigate.

Here's what was discovered:
We're waking up to the benefits of home deliveries.
53% of Americans have ordered a delivery to support a local business in the last year.
48% say that home deliveries feel safer than shopping in stores.
44% say that deliveries are more convenient.
36% say the items they need are sometimes sold out in stores, or online-only.
70% say that they appreciate delivery workers more than they used to.
Pre-pandemic, package theft was the main concern for online shoppers. Today's deliveries arrive with new concerns: worries about our health, and the health of others.
29 % of Americans worry about being exposed to germs at the front door
Two out of five now wash their hands after handling packages.
One third disinfect their deliveries before opening them.
One in six let their packages sit unopened to give germs time to die.
We're still wary of opening the door to strangers.
Although we're concerned about deliveries being left outside, we're also hesitant to open our doors when they arrive.

68% of Americans say they don't open their door unless they're certain they know who's on the other side.
35% wait until delivery drivers leave before they open the door.
31% are worried about potential burglars posing as delivery drivers to case their home.
41% say they don't trust that visitors are always who they say they are.
Help is at hand—and it's hands-free.

If you're looking for a better, safer way to manage your deliveries while protecting your home and family, look no further. Rendin Alarm offers a new Touchless Video Doorbell lets you see more, know more and do more at your door, no matter where you are. This is an essential tool for managing deliveries safely and to protect your property overall. For more info on this innovative product, read our previous blog.
Our partners at Alarm.com have provided us with this detailed information. I hope you found it helpful. Please visit our Services Page for more info.
Find Out More
Rendin Alarm is ready to protect your entire Family, Home or Business.
If you are interested in Smart Alarm Systems for Your Home or Business, please call us at (610) 544-5755 for details! To learn more, visit our Services Page. Please Follow us on FaceBook.
We will ensure your Home, Family of Business are safe and secure!
Thank You!