Smarter Video Alerts are possible with Rendin Alarm's service. Smart video monitoring is a modern security essential. With video alerts, live camera feeds and 24-hour recording options, video makes it easy to stay in the know about important activity at your home or business.With our newly launched video analytics service, it can be even more valuable.
Video analytics is a highly intelligent security feature that monitors your property's video streams to distinguish important events from routine activity. It uses this real-time insight to filter and categorize your video alerts, giving your video monitoring a new level of control, customization and value.
Video analytics uses cutting-edge artificial intelligence, developed by our computer vision research team for home and business security. It can tell whether a moving object in your driveway is a person, an animal or a vehicle. It can ignore a person who quickly visits your front door and then leaves (the mailman), but alert you if a visitor lingers too long in the same place. It makes these distinctions in real time before alerting you—or not—according to your preferences.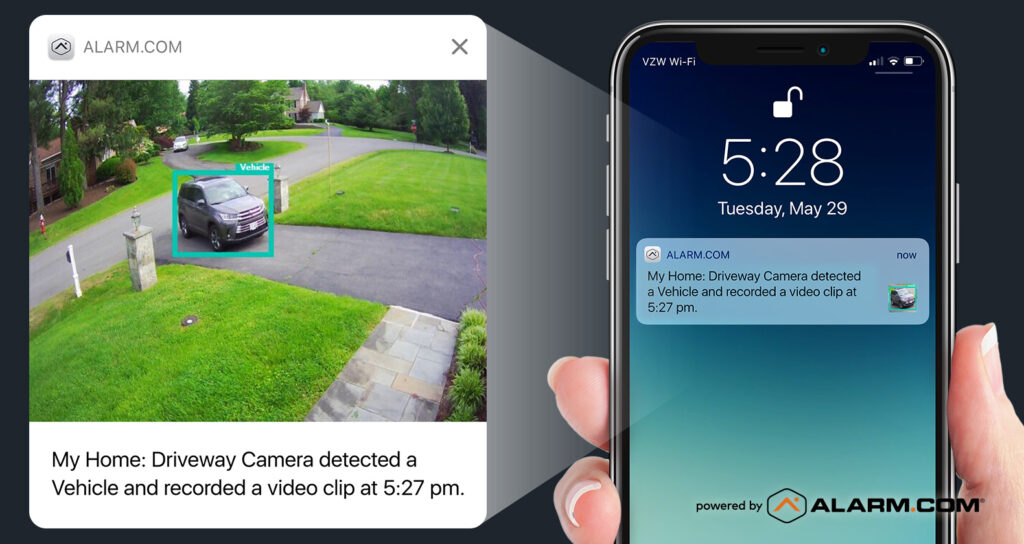 Video analytics also lets you create virtual "zones" and multi-directional "tripwires" for your cameras, enabling it to further categorize activity based on the layout of your home or business and the areas you need to protect. You can know when:
Vehicles come and go: Know when a vehicle stops outside your home, but not every time a vehicle drives past.
Visitors linger: Get a video alert if someone lingers by your front door, but not when the mail is delivered. Additional Features are:
Pet protection: Know which neighbor's dog has been visiting your lawn. Know immediately if your own pet bends the rules and naps on the couch when you're at work.
Automated deterrence: Set your lights and other home automation scenes to turn on when a person enters your backyard, but not when an animal enters.
Vendor validation: Business managers can confirm that a delivery truck pulled into the loading dock, but won't be notified each time a customer exits the building.
Video analytics is the latest in a line of proactive, intelligent safeguards developed to keep your home or business safer, including Crash and Smash protection,  Unexpected Activity Alerts and Geo-Services triggers.
If you're interested in activating video analytics, contact Rendin Alarm today! Please call us at (610) 544-5755 for details! To learn more, visit our Services Page.  Please Follow us on FaceBook.