Rendin Alarm Company proudly represents The Honeywell Company and its quality products.  Among our services is Commercial Fire Protection and Alarm Systems.  The following is from Honeywell's Vendor Support Site.  We hope you find it interesting!
Honeywell Launches New Series of Silent Knight Fire Alarm Control Panels
The new Silent Knight 6000 Series includes four panels with point capacities ranging from 100 to 1,110 points.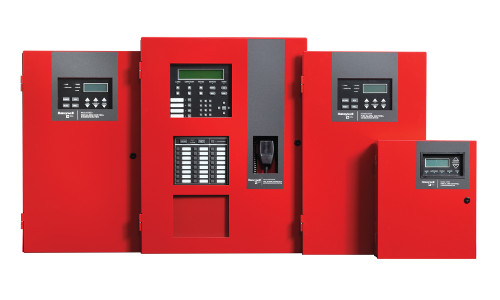 Honeywell introduces the Silent Knight 6000 Series, an expansion of addressable fire alarm control panels (FACPs) and accessories sold through Rendin Alarm Company.
The 6000 Series includes four new panels with point capacities ranging from 100 to 1,110 points for greater flexibility and larger installs, according to the company.
Up to 17 panels can now be connected with a designated panel acting as a common communicator for critical system information.
Signaling line circuits can be added as needed until maximum point levels are reached. The panels also include built-in support for SWIFT wireless detection.
Other product enhancements include field upgradable firmware, USB programming, built-in IP/POTs communications, new cellular side car options and more.
"Development of the new 6000 Series was focused on giving our customers more capabilities and making systems easier to install," says Susan Adam, marketing director for fire systems, Honeywell Home and Building Technologies. "The Silent Knight brand has been a leader in the fire system market since entering it in 1961, and this new offering continues our tradition and commitment to customers."
The new Silent Knight 6820EVS fire alarm control panel and Emergency Voice System (EVS) combines a fire and emergency mass notification system, integrated and housed in a single panel, while meeting stringent governmental requirements for mass notification as described in UL 2572, according to the company.
This combination fire and emergency voice system is said to be useful for managing fire and non-fire events where life safety and property protection depend on clear and timely communications.
Honeywell says both the 6820EVS and 6860 remote annunciator feature a large, 160-character (4-line by 40-character) display for improved readability of system messages, as well as four programmable buttons that help save time when executing routine or complex tasks at the panel.
If you are interested in The Silent Knight or any other security system for your business or home, please contact Rendin Alarm Company today at (610)544-5755
Thank You!